Forbidden Duke is on sale for 99 cents this weekend only for my subscribers!
First I wanted to share my 22 month is already a kindle owner. Scary, no? I swore no electronics, but it has so much for children.  And parenting realities trump pre-parenting idealism. I thought about an iPad as my husband and I love ours, but the 22 month old isn't exactly gentle. And Amazon offers free returns for 2 years on the kids edition so we went with a kindle. However she is surely frustrated with the lack of swiping and missing the home screen. Hopefully she gets used to how the kindle works fast.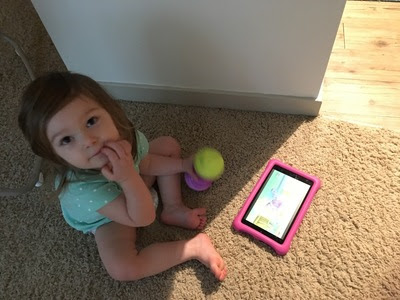 Tempting Gabe came out right when I figured out I was pregnant and changed all my book publishing plans so I had books to release during the 'I might not be writing' months of a new born, so the rest of the series I delayed. However I'm excited to report I'm almost done writing the next Morgan book about Pilar Soliz for my Christmas story. I'm so excited about this as honestly I wasn't sure I would write and I did take 2 weeks off, but this is much bigger than the novella I planned. She's getting a book.
And in writing I feel like I went back to a sort of normal though now I have two children running around at home. (Okay the newborn doesn't run. She just stares at me with her cute blue for now eyes.)
 
Anyhow I'm launching this series now and I'm excited they are all coming along. I'm also getting print editions ready in case people want those instead. I'm also working on the Princes of Avce audio books so there are lots of things in production. The Favorite Coffee Series just had the audios released for audio book fans! So there is lots of book news.
And honestly Tempting Gabe was fun to write. Oftentimes we want to have a really complex villain who you understand everything for. In the House of Morgan book I'm writing, I introduced a new branch of the Morgans and a bad brother who is just like his father so I'm totally jazzed with having a complex evil bad guy with layers. However it's also fun to just have a bag guy with simple goals. He lost all his money. He blames Gabe and wants to kill them all. Gabe meets Megan, the sister of the killer and they fall in love, but he also hires his former Marine friends to protect his family. James protects Scarlett, the feisty sister. Conner protects Olivia, the sweet sister. Harry protects Gabe's parents and meets his cousin, Roxanne. (You probably remember her from Favorite Sin when she broke up Calliope's wedding.) And last you meet the half-brother no-one knew about, Navid. This entire series does have villains who do get more complicated, but it's black and white on who the bad versus good are. So if you've not started the series, get the first book now for 99¢.
For only 99 cents this weekend only!
Gabe wants to protect his family from an assassin. Megan wants to get her brother help. Neither was prepared for the electric chemistry from the enemy.

A skilled assassin. A desperate plea. A sizzling romance.
Heir to a wealthy oil tycoon, Gabe Hawke joined the Marines to advance his tech skills and use them to build a premier computer technology company. While out in the desert, he falls prey to a brazen theft. His early prototypes are gone. The thief remains at large. But that's not the end of the bewildering crime spree. Soon thereafter, his parents are prey to an attempted assassinated by an unknown assailant, leaving him as the sole protector of his sisters.
When Megan Maddox lost her mother, her world came to a grinding halt. Her brother became a virtual recluse, and the jewels left behind for her, remained in his possession. An attempt to retrieve those jewels and find some semblance of a connection between her and her distant brother exposes unbelievable evidence about her brother's true identity and the dangers he faces.
Desperate to keep her brother safe from harm, Megan turns to the one person who can help her, but when their worlds collide, it exposes yet another unbelievable surprise – one that challenges her heart.
Out this week!
One slightly pampered lady. One sexy French, vineyard owner. An unexpected romance set in both wine country and Paris between two opposites with almost nothing in common except undeniable chemistry.
Lady Chelsea Bright is many things, but a romantic is not one of them. With her family in dire straits, she must marry a wealthy suitor to ensure their security, but that means she'll have to sacrifice her art and travel to Paris to meet Duc Astorre Manfredi, and never submit her art for a showing that was set up for her.
Alexandre Travers has one goal in mind – to rebuild his family's vineyard in the South of France. That means he must concentrate his efforts on producing the best grapes possible and completely rebranding the organization because there's no room for error. The last thing he needs is distractions, but that's exactly what he gets when a distracted driver crashes her car on his property and destroys all his hard work.
Chelsea needs a ride to Paris but volunteers to stay and help repair the property and despite the trouble she's caused, but these two opposites soon find themselves growing closer. Soon, that budding friendship begins to look and feel like love, but is it enough to make Chelsea abandon her plans and begin anew?

One sweet, unassuming book blogger targeted by an assassin. One handsome prince sworn to protect her. These two have nothing in common, except undeniable chemistry.
Prince Conner Udine is a man of honor. When he promised his best friend and former Marine buddy that he'd protect his sister, he never imagined that it would lead to a lifetime commitment. When a sixteenth century law resurfaces, his life plan takes a drastic turn, and now he has to marry before his thirtieth birt
Olivia Hawke liked Conner from the first moment she saw him, but she never revealed that to him. Now, he's her protector, and she has to live in his castle.
As if that's not awkward enough, he's just revealed that he has to marry, and fast.
Will she agree to give him her hand and finally get the happily-ever-after she's always dreamed of?
One: Deposed Shiek. Two: The woman whose heart he broke.  Three: This marriage of convenience wasn't supposed to lead to love.


Aaden Bentley needs to marry to secure an inheritance he never really wanted. Billions wait for him if only he fulfills the will of his parents. Family honor once ruined his life when he skipped out on his own wedding to the only woman he ever loved. But his parents were right. If he married her, he put her in a world of danger so he let her go.
Sienna McKenna booked a tropical vacation for herself to get away from her secretary job. She intended to read, and do nothing, until she walked into the lobby and saw the man who broke her heart, Aaden Bennett, sitting in the lobby. So when he asked her to marry him, for the second time, she has every reason to run away, but instead decides to take a second chance on Aaden.
Neither one of them expected to care or love ever again, but together both their broken hearts heal. But is it enough to truly fall in love with each other?
A modern day gothic meets a retelling of the Count of Monte Cristo
One Former Bad Girl. One Constitutional Attorney who believes in the law. These two had nothing in common
One trip for her annual checkup puts Natalie in the path of the House of Morgan
And more Giveaways I'm running…

Another chance to win a Kindle Fire!
Last please follow me on BookBub and Amazon and if you want to join my
review team, please fill out the form here!