Happy Summer Solstice!
I know I'm a few days late but I wanted to wish you all a Happy Summer Solstice!
It's official! Summer is finally here! It actually feels like Summer.
Also, for new subscribers, I want to say welcome and hello!
This Giveaway is pretty easy and I think the prize is pretty cool as well!
With it officially being Summer, I want to know what your favorite time of the year is and why.
One winner will be chosen via Random.org and will receive a $10 Amazon Gift Card and a swag bag.
Email your answers to isaiyan@isaiyanmorrison.com or you can reply to this Newsletter.
Good luck!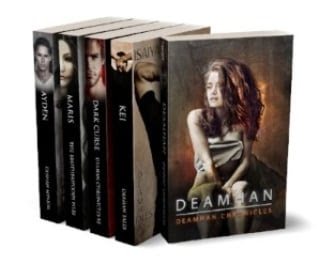 You can!
The first box set in the Deamhan Chronicles is available now on Amazon for only 99 cents!
Available on Amazon for 99 cents
Add to your Goodreads to-read list
BOOK DEALS
After Dina Ranger loses telepathic contact with her twin brother, Duncan, she breaks into his apartment and stumbles onto a special government unit responsible for monitoring the psychic population. She's offered a job where she can use her psionic gifts to help people.
Stranded on earth over a hundred years ago, Liam of Shria is searching for a metal needed to repair his ship when he finds Dina inside an alien escape pod and narrowly saves her after she trips the alarm.
As the mystery and their relationship deepens, Liam helps Dina learn the truth behind her abilities while uncovering a plot to rebuild an ancient weapon, exposing dangerous secrets about the alien presence on earth that may change the future forever.
Available on Amazon for 99 cents!
Everyday I deal with personal prophecies and dish out guidance to the poor souls knocking at my door. I answer questions about their love lives, their hidden desires, and all the other incessant queries they can't seem to answer for themselves. And everyday, I do it with a smile on my face when I really just want to roll my eyes or tell them to get off their ass and make a move. Any freakin' move.
Have I mentioned, people annoy the crap outta me?
Don't look so surprised. You'd be annoyed, too, if you were 2 millennia old and had to deal with the same questions day in and day out. Especially when all you really want to do, is unlock the big gaping hole in your own damn memories. The first 24 years of my super long existence are a complete void. I've been working on recovering the details for ages, but so far that's gone pretty much nowhere. Seriously, it's not too much to ask this messed up universe.
Is it?
OUTCASTS.  MISFITS.  FREAKS.
And that was before they discovered they commanded some super dark powers.
A new urban fantasy series from the award-winning screenwriter of ground-breaking BBC TV series Spirit Warriors.
When Marley moves into her dorm at Blackville University, the recent murder of a Tennerson student is the last thing on her mind.  She has roommates to get to know, classes to sign up for, parties to attend, and an over-protective father to avoid, who, as luck would have it, has just been hired at BU as its newest History professor.
After a childhood of being bullied due to a condition she can't help having, all Marley wants is to be normal.  She hopes a new start in a new city will provide that.
Unfortunately, life has other plans for her.
When she, along with three other troubled girls: Goth Eve with a dark secret she is desperate to keep hidden, ugly rich girl Cassie who can buy anything except for a new face, and newly orphaned Tyler, try to stop a brutal attack, a secret new world opens up, one where supernatural beings rule the night.
But that's not the worst thing, not by a long shot.  Try never knowing if what you're seeing is real, especially when one of those things is a murder…
Saving the world has never been this twisted.
Fans of The Mortal Instruments, The Vampire Diaries, and Pretty Little Liars will love this thrilling new series!
Just like your favorite TV series, Twisted consists of many episodes. What Doesn't Kill You is episode 1. A new episode will be released every eighteen days!
Best Regards,
Isaiyan Morrison